---
ADVISORY BOARD
Honorary Chairperson

Qidi WU, Ph.D
Former Vice Minister of Education, P.R.China
Former President of Tongji University
    Qidi Wu is a native of Yongjia County, Zhejiang province. She was born in 1947, graduated from Qinghua University, and obtained a doctorate in Switzerland.
    Wu has had a successful career at Tongji University as a professor and president. She was soon elected member to the academic degrees committeeof the State Council, and she also served as deputy director of the ShanghaiMunicipal Academic Degree Committee. Qidi Wu was elected vice-minister of education in 2003.
 
 
Chairman

Peigen LI, Ph.D
President of Huazhong University of Science and Technology
Academician of Chinese Academy of Engineering
    Peigen Li was born in 1948 in Hubei province, graduated from Huazhong University of Science and Technology (HUST) in 1981. After he got his Ph.D. degree from University of Wisconsin-Madison in USA, he came back to HUST in 1987.
    Peigen Li has been one of the main leaders of Computer Integrated Manufacturing (CIM) Center of HUST. Due to the outstanding work of CIM center of HUST, HUST received the University LEAD Award by SME/CASA in 1999. He particularly led the R&D of Computer Aided Process Planning (CAPP) and Manufacturing Execution System (MES). The CAPP system of HUST already became one of the main CAPP products in China, and has been applied in over 1,000 manufacturing companies. In 2001, he got the National Prize for Progress in Science and Technology (2nd Grade) owing to his achievements in CAPP area. He also got some other awards for his research work from Hubei Province and the Ministry of Education of China. He published three books and over 100 papers, and elected as Academician of Chinese Academy of Engineering in 2003. Peigen Li served as the dean of School of Mechanical Science and Engineering, and the vice president of HUST. In 2005, he was appointed as the president of HUST.
 Vice Chair

Britton CHANCE, Ph.D, Sc.D (Cantab.), M.D. (Hon)
Eldridge Reeves Johnson University Professor Emeritus of Biophysics, Physical Chemistry, and Radiologic Physics
Member of the National Academy of Sciences
Foreign Member of the Royal Society
Member of the American Philosophical Society
    Britton Chance is amazing; he has won prizes ranging from an Olympic Gold Medal to National Medal of Science. He obtained two PhDs, one in physical chemistry from the University of Pennsylvania in 1940, and the other in biology/physiology from Cambridge University in 1943. He is currently the Eldridge Reeves Johnson University Professor Emeritus in Biochemistry and Biophysics and Physical Chemistry and Radiologic Physics, School of Medicine, University of Pennsylvania. Among his honors are the member of National Academy of Sciences (USA), foreign member of Royal Swedish Academy of Sciences, foreign member of Royal Society (London), member of Royal Academy of Arts and Sciences, Foreign member of Max-Planck-Gesellschaft zur Forderung der Wissenschaften, etc. Since his first U.S. patent awarded at age 17, he published more 4000 papers and books. Britton has employed a rare combination of brilliance, drive and good fortune to become of the most prolific scientists of the 20th century.
    Between 1941 and 1945 Britton joined the war effort focusing on radar in MIT. He developed a device providing critical ranging information for anti-aircraft gun-pointing systems. He was named group leader of the Precision Circuits Section of the Receiver Components group in 1943, and was elected to the Steering Committee chaired by Lee Dubridge and I.I.Rabi. By 1945, he was supervising 300 people as Associate Director of Lee Haworth's Division of the MIT Radiation Lab. He was appointed to the President's Scientific Advisory Committee (1959-1960).
    After the war, Britton resumed work on the enzyme-substrate problem in Stockholm. Using the stop-flow apparatus, he and Hugo Theorell identified and tracked a coenzyme for the first time. They found that the enzyme-substrate reaction did not proceed without the binding of the coenzyme. The process is now identified as the Theorell-Chance (T-C) mechanism. During the same period in the early 1950s Britton shifted his attention from classical chemistry toward biochemistry in the functioning organism. Britton carried out arguably the finest work of his career at this time: elucidation of the control of oxidative phosphorylation in mitochondria.
    Britton and his colleagues demonstrated the first whole organ MRS in the late 1970s. Shortly thereafter in the early 1980s, Britton and his colleagues first demonstrated MRS in human subjects. The success of optical spectroscopy for probing intact organelles stimulated Britton to push the optical method toward living tissue. The rapid progress of the in-vivo MRS foreshadowed current developments in optical spectroscopy and imaging of deep tissue. Britton has been a central figure in the development of a new field.
    Britton Chance is one of the giants of biochemistry and biophysics. His research draws from many disciplines, particularly electronics, clinical medicine, biology and physics.
    Britton won a gold medal in sailing in the 1952 Olympics.
 

Da Hsuan FENG, Ph.D
Senior Vice President, National Tsing Hua University, Hsinchu
    Da Hsuan Feng received his Physics Ph.D. from University of Minnesota in 1972 and became M. Russell Wehr Distinguished Chair Professor of Physics at Drexel University. He also held the position of Vice President of Science Applications International Corporation, a Fortune 500 company in 1998-2000, Vice President for Research and Economic Development of the University of Texas at Dallas in 2001-2007, and Senior Executive Vice President of National Cheng Kung University in 2007-2011. Feng has published more than 180 scientific papers, edited more than 20 books. In 1996, "for (his) outstanding contributions to the understanding of nuclear structure physics, particularly for the applications of the coherent states to physics and nuclear physics," Feng received the accolade Fellow of the American Physical Society. He also received the "friendship award" from Taiwan's Chung Yuan University and is the honorary and guest professor of twelve Mainland's universities, such as Peking Union Medical University, Fudan University, Lanzhou University, Nanjing University, Jilin University, Northeast University, Three Gorges University, Shanghai Insitute of Applied Physics of the Chinese Academy of Science, and Huazhong University of Science and Technology. In 2007, Feng was appointed by Li Ka-Shing Foundation to be a Board of Trustees member of Shantou University.
    In 2007, Feng was one of the founding members of the powerful Advisory Board of the Britton Chance Center for Biomedical Photonics of China's Huazhong University of Science and Technology in Wuhan, Hubei Province. In 2009, in recognition of his contribution to the development of science and technology of the province of Hubei, Feng was awarded the Chime-Bell Award.
    From 2005-2007, Feng became an independent Board member of Cellstar. In 2007, he also became a Technical Advisory Board member of Aurora Technologies Corporation of Massachusetts, United States. In 2010, Malaysia's Universiti Teknologi Petronas appointed Feng as its Academic Advisory Committee member. 
 Member

Sydney BRENNER, Ph.D
2002 Nobel Laureate in Physiology or Medicine
Founder of The Molecular Sciences Institute, Berkeley
    Sydney Brenner, one of the past century's leading pioneers in genetics and molecular biology, was born in South Africa (13 January 1927) and educated at the University of Witwatersrand, Johannesburg (Medicine and Science). He went to Oxford and received a degree of D.Phil., in 1952 working in the Physical Chemistry Laboratory. After a brief return to South Africa he joined the MRC Unit in the Cavendish Laboratory in Cambridge in 1956. He worked in it and its successor, the MRC Laboratory of Molecular Biology in Cambridge where he was the Director from 1979 to 1987. In 1987 he became Director of the MRC Unit of Molecular Genetics retiring in 1992 from the MRC. He is now Research Professor at the Salk Instiute in La Jolla, California.
    Dr Brenner's recent research is on the structure and evolution of vertebrate genomes. Among his many notable discoveries, Brenner established the existence of messenger RNA and demonstrated how the order of amino acids in proteins is determined. He also conducted pioneering work with the roundworm, a model organism now widely used to study genetics. His research with Caenorhabditis elegans garnered insights into aging, nerve cell function and controlled cell death, or apoptosis.
    Dr. Brenner was awarded the 2002 Nobel Prize in Physiology or Medicine. He is a Fellow of the Royal Society, a Foreign Associate of the National Academy of Sciences, and a Recipient of the Albert Lasker Medical Research Award, 1971.

Howard CHEN, esq.
Partner, K&L Gates
Chair of the Asia industry group at K&L Gates
    Howard Chen has developed a practice focused on representing Asian technology leaders, servicing their legal needs in the United States. He represents blue-chip technology clients as well as small, aggressive technology startups. His current clients include Asian companies in the vanguard of the technology industry, including several multibillion-dollar companies in the semiconductor, display and telecommunications sectors.
    Howard advises his clients on IP strategies, procurement, licensing negotiation and IP litigation arising from patent, trade secret, copyright, trademark, unfair competition and licensing disputes. He also routinely advises clients on the international aspects of the technology business, including securing IP protections worldwide and establishing joint ventures with overseas partners.
    Howard frequently visits Asia, and he is well recognized in several overseas markets as a leading international attorney for the technology industry. He is frequently invited to speak on numerous topics in Asia, especially at high-tech events. Most recently, for example, he was invited to be the VIP guest speaker at the China High Tech Fair in ShenZhen. He was also recently invited by the China State Intellectual Property Office to be the key lecturer and the only U.S.-based IP practitioner for the first national intellectual property training seminar in HangZhou.
    Before bringing his practice to the San Francisco office of K&L Gates, Howard practiced in Dallas, TX, where he was actively involved in the local technology community. He is a cofounder of MetroChips and the Technology Alliance of Dallas. Howard also continues to devote a significant portion of his time to community service. He recently helped Nobel Laureate Dr. Alan MacDiarmid initiate the MacDiarmid Institute for Global Research Excellence, an international nonprofit organization dedicated to promoting research excellence and the international collaboration of scientists.
 

Jing CHENG, Ph.D
Academician of Chinese Academy of Engineering, Cheung Kong Professor of Ministry of Education
University Professor, Tsinghua University
Director of National Engineering Research Center for Beijing Biochip Technology
    Prof. Jing Cheng received his PhD degree in Forensic Sciences from the University of Strathclyde (UK). He was a Research Assistant Professor at University of Pennsylvania, Principal Investigator at Nanogen and Chief Technology Officer at Aviva Bioscience. His research intererst includes the development of DNA chips, protein chips, cell chips and lab-on-a-chip system, and the application of biochips in disease diagnostics, food safety testing and drug discovery. Dr. Cheng developed the world's first system of laboratory-on-a-chip in 1998 which was featured in the front cover story of the June 1998 issue of Nature Biotechnology, also cited in the breakthrough of the year by Science in the same year. He has published 70 peer-reviewed papers and edited 8 books. In addition, he has obtained 37 patents. He was awarded Nanogen's most prestigious award NanoGrant in 1999, Distinguished Achievement Award for Overseas Scholars Returned in 2003, National Young Scientist Award in 2004, Qiushi Outstanding Youth Technology Transfer Award in 2004 and China Patent Award of Excellence in 2006.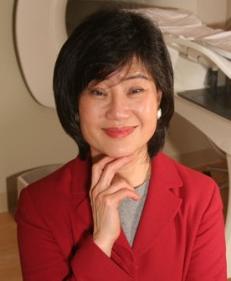 Olivia Ho Cheng
President & CEO
Aurora Imaging Technology, Inc.
    Olivia Ho Cheng is the President and CEO of Aurora Imaging Technology, Inc., a company that is revolutionizing breast cancer detection and diagnosis with the Aurora® 1.5 Tesla Dedicated Breast MRI System with 3-D Bilateral SpiralRODEOTM, the only FDA-cleared, dedicated breast MRI system designed specifically for breast imaging.
    Olivia, born in Taiwan, earned her master's degree in economics at UCLA. She started her career as an analyst at Getty Oil in Los Angeles and then entered commercial banking in the mid-1980s and investment banking specialized with investments in medical technology companies. She became known to medical companies for her international trade acumen and expertise. In mid 90's, she was invited to be a White House advisor on export policies.
    Olivia has served as a member of the board of directors for Accuray Incorporated (NASDAQ "ARAY") and The Trylon Corporation. Accuray is a global leader in the field of radiosurgery. Its CyberKnife System is the world's first and only commercially available intelligent radiosurgery system designed to precisely treat tumors anywhere in the body. In addition to Aurora, Olivia is actively serving as a board member of the Kenneth B. Schwartz Center ("SKC"), a non-profit organization headquartered at Massachusetts General Hospital in Boston and Tufts Medical Center ("TMC"). TMC is the principal teaching hospital for Tufts University School of Medicine and one of Boston's top academic medical centers with more than 450 physicians.
    Olivia became CEO of the North Andover, Massachusetts based Aurora in July 2003. She moved from California to Massachusetts so that she could devote her full energy and attention to the growth of the Company. She and her husband, Dr. Ken Cheng, have been married for 29 years. Together they have two grown children, Joshua and Catherine.

Shu CHIEN, M.D., Ph.D.
Y.C. Fung Professor of Bioengineering, Univ. of California, San Diego
University Professor, University of California
Member of Institute of Medicine, National Academy of Sciences, and National Academy of Engineering of USA
Fellow of American Academy of Arts and Sciences
Foreign Member of Chinese Academy of Sciences
Member of Academia Sinica
    Shu CHIEN, M.D., Ph.D. is a world famous Chinese-born American scientist, who is one of the only six in the world simultaneously holding the membership of four major US National Academies (Institute of Medicine, US National Academy of Engineering, US National Academy of Sciences, and American Academy of Arts and Sciences).
    Dr. CHIEN received his M.D. from National Taiwan University, and his Ph.D. in physiology from Columbia University, where he joined the faculty in 1958, and moved to UCSD in 1988.
    He is currently President (since 1991) of the Institute of Engineering in Medicine at UCSD. He was the Founding Chair of the Department of Bioengineering of UCSD which he created in 1994. U.S. News ranks the department #2 among the nation's graduate bioengineering programs.
    Dr. CHIEN has also been on the Biomedical Engineering Society (BMES) Board of Directors since 2003 and, most recently, was President for 2006-2008. He served as President of the Microcirculatory Society from 1980-81. He was the President of the American Physiological Society from 1990-91. As a founding Fellow of the American Institute for Medical and Biological Engineering he contributed greatly to the evolution of the mission and goals of AIMBE, especially as AIMBE President from 2001-02. Dr. CHIEN has served as President of the Federation of American Societies of Experimental Biology from 1992-93. He was Chair of the 35th IUPS Congress in 2005. He also served as the President of International Society of Biorheology from 2005-2008.
    Dr. CHIEN's research and teaching interests include the effects of mechanical forces on gene expression and signal transduction, molecular, cellular and tissue bioengineering, blood rheology and microcirculatory dynamics in health and disease. He is an expert on how blood flow and pressure affect vessels. His research has led to the development of better diagnostic tests and treatments for atherosclerosis and other diseases.

Paul Ching-Wu CHU, Ph.D
Temple Chair of Science and Professor of physics, University of Houston
Member of National Academy of Sciences, Member of American Academy of Arts and Sciences
Foreign Member of the Chinese Academy of Sciences, Foreign Member of the Russian Academy of Engineering
    Prof. Chu completed his PhD degree in physics at the University of California, San Diego in 1968. He served as a consultant and visiting staff member at Bell Laboratories, Los Alamos Scientific Laboratory, the Marshall Space Flight Center, Argonne National Laboratory, and DuPont at various times. He took up an appointment as Professor of Physics at the University of Houston in 1979 and became Director of the Texas Center for Superconductivity since 1987. He has served as the TLL Temple Chair of Science at the same university since 1987.
    Prof Chu is famous for his outstanding work in superconductivity. He found the new superconductivity materials and enhanced the temperature of superconducting to -180oC. The papers he published are more than 530. He is a member of US National Academy of Sciences, American Academy of Arts and Sciences, Academia Sinica, The Academy of Sciences for the Developing World, and a foreign member of Chinese Academy of Sciences and Russian Academy of Engineering. He has received numerous awards and honors including US National Medal of Science, the International Prize for New Materials and John Fritz Award--the most great award in engineering circle.

Aaron CIECHANOVER, M.D, D.Sc
2004 Nobel Laureate in Chemistry
Distinguished Research Professor, The Rappaport Faculty of Medicine and Research Institute
Technion-Israel Institute of Technology, Haifa, Israel
    Aaron Ciechanover was born in Haifa, Israel in 1947. He received his M.Sc. (1970) and M.D. degrees (1975) from "Hadassah" and the Hebrew University School of Medicine in Jerusalem, and his D.Sc. in biochemistry from the Technion (1981). There, as a graduate student with Dr. Avram Hershko, they discovered the ubiquitin-proteasome system for regulated degradation of intracellular proteins. They demonstrated that covalent attachment of ubiquitin to the target substrate signals it for degradation by a downstream protease. They purified the conjugating enzymes, deciphered their mechanism of action, showed that the system degrades abnormal proteins in cells, and proposed a model according to which polyubiquitination functions as a recognition signal for a specific, downstream protease that degrades the substrate with the release of reusable ubiquitin. Along the years it has become clear that ubiquitin-mediated degradation of proteins is central to the regulation of basic cellular processes, including cell cycle, transcriptional regulation, growth and development, differentiation, apoptosis, receptor modulation, DNA repair and maintenance of the cell's quality control. With the multiple substrates targeted and processes involved, it is not surprising that the system has been implicated in the pathogenesis of many diseases, a broad array of malignancies and neurodegenerative disorders among them. This led pharma companies to initiate efforts to develop mechanism-based drugs, one of them to combat multiple myeloma is already on the market with many more in the pipeline. Following his graduate studies, Ciechanover obtained his post-doctoral training (1981-1984) with Dr. Harvey Lodish at the Massachusetts Institute of Technology (M.I.T.) and the Whitehead Institute in Cambridge, Massachusetts, USA. There he studied receptor-mediated endocytosis and deciphered the mechanism of iron uptake by the transferrin receptor. In parallel and in collaboration with Drs. Alexander Varshavsky and Daniel Finley, he continued his work on the ubiquitin system. Following his return to Israel (1984), he joined the Faculty of Medicine of the Technion in Haifa and established his own laboratory where he has continued to contribute significantly to the development of the field via studying, among other subjects, the mechanisms of ubiquitin-mediated regulation of transcription factors and growth promoting factors such as p53, Myc, MyoD, and NF-?B. For his studies in that led to the discovery of the ubiquitin system, Dr. Ciechanover, along with Drs. Avram Hershko and Irwin Rose, was awarded the Nobel Prize in Chemistry in 2004. Beforehand, in 2000, he shared the prestigious Albert Lasker Award for Basic Medical Research with Drs. Hershko and Varshavsky, and was awarded in 2003 the Israel Prize for Biological research, the highest recognition bestowed by the State of Israel. Among many esteemed bodies, Ciechanover is a member of the Israeli National Academy of Sciences and Humanities, the Pontifical Academy of Sciences of the Vatican, and the American Philosophical Society. He is a Foreign Fellow of the American Academy of Arts and Sciences, and a Foreign Associate of the National Academy of Sciences of the USA and its Institute of Medicine.

A. Stephen DAHMS, Ph.D
President and CEO, Alfred E. Mann Foundation for Biomedical Engineering
    He has been President and CEO of the Alfred E. Mann Foundation for Biomedical Engineering since 2005 and oversees the creation of an initial 12-15 new biomedical product commercialization-facilitation institutes at elite U.S. universities with start-up funding for each at $150 million-200 million. These Alfred E. Mann Institutes for Biomedical Development focus upon a venture philanthropic bridge across the so-called "Valley of Death", improving the value university-owned IP, and enabling ultimate commercialization with the goal of getting new therapies and medical devices to the patient more rapidly. As a biochemist - molecular biologist, he was Professor of Chemistry and Biochemistry at San Diego State University (1972-2006), founding Director of the SDSU Molecular Biology Institute (1974-1992), Director of the SDSU Center for Bio/Pharmaceutical and Biodevice Development (1996-2006) and Executive Director of CSUPERB, the biotechnology research program of the 23-campus California State University system (1987-2005). He serves on the boards of directors of a number of research and development-focused institutes and foundations and biotechnology trade groups and organizations, including the Biotechnology Industry Organization (BIO) Board of Directors, the BIO Emerging Company Section, and the Board of the U.S. Council of Biotechnology Centers/BIO (Chair). He is a member of the U.S. National Research Council, National Materials Advisory Board's, the National Academies of Sciences and Engineering, and the Institute of Medicine's Roundtable on Biomedical Engineering Materials and Applications. He is also a member of the National Academies of Sciences and Engineering University-Industry Demonstration Partnership and the Federal Demonstration Partnership. In August 2008 he was appointed by the Secretary of Commerce to the newly-created 24-member Federal Emerging Technologies and Research Advisory Council, designed to evaluate emerging technologies and to make recommendations to the government.
    He addresses complex issues in the technology transfer, translational research, and pre-commercialization phases of the biomedical innovation cycle and serves on a number of national and international committees, commissions and panels addressing the academic-bio/pharm/med device industry interfaces, the facilitation of interdisciplinary and cross-disciplinary research, translational research, translational development, management and valuation of intellectual property, and venture philanthropy.

Steven R. Goodman, Ph.D.
Vice President for Research, SUNY Upstate Medical University
Dean, College of Graduate Studies
Professor of Biochemistry and Molecular Biology
Professor of Pediatrics
Editor-in-Chief, Experimental Biology & Medicine
Past-President, Assoc. Anat., Cell Biol., & Neurobiol. Chairs
    Dr. Steven Goodman gained his Ph. D. degree in Biochemistry from Saint Louis University Medical School in 1976, and became Vice President for Research, Dean, College of Graduate Studies, Professor of Biochemistry and Molecular Biology, and Professor of Pediatrics at SUNY Upstate Medical University in 2008.
    Dr. Goodman is a pioneer in several fields of biomedical research. He was the discoverer of nonerythroid spectrin, defined the role of spectrin in synaptic transmission, explained the molecular basis of the irreversibly sickled cell and most recently performed seminal studies on the erythrocyte proteome and how it changes in sickle cell disease. His 30 year body of ground breaking work, has created new fields in cell biology, hematology and neuroscience, and has led to his being nominated to the National Academy of Science.
    Dr. Goodman is a Past President of the Association of Anatomy, Cell Biology, and Neurobiology Chairs. The organization represents all of the chairmen and directors of institutes at all of the Medical schools and universities that cover anatomy, neurobiology and cell biology in the United States, Canada and Puerto Rico. He is current Editor-in-Chief of Experimental Biology & Medicine and serves on the Editorial Board of four other journals. His textbook, Goodman's Medical Cell Biology is now available in its third edition.

Barry HALLIWELL, Ph.D
Deputy President (Research & Technology), National University of Singapore
    Prof. Halliwell holds BA (first class honours) and PhD degrees from the University of Oxford and a Doctor of Science degree from the University of London. Before coming to Singapore he was Professor of Medical Biochemistry at Kings College, University of London and co-director of both the Antioxidant and Neurodegenerative Disease Research Centres. He was formerly Research Professor of Internal Medicine and Biochemistry at the University of California and a Lister Institute Research fellow in biomedical sciences. Prof Halliwell has been identified by the Institute for Scientific Information (publishers of the Science Citation Index) as one of the most influential scientists worldwide in Biology and Biochemistry. His current research interests include molecular nutrition, especially the role of antioxidants in the human diet, and the mechanism of neuronal cell loss in the major neurodegenerative diseases. He has published over 300 scientific papers in top journals, is editor of four journals and on the board of several others and his textbook Free Radicals in Biology and Medicine published by Oxford University Press is regarded worldwide as the authoritative reference text in the field.

John HART, Jr., M.D
Jane and Bud Smith Distinguished Chair, Cecil Green Chair in Systems Biology
Professor of Behavioral and Brain Sciences
Medical Science Director, The Center for BrainHealth, The University of Texas at Dallas
    Dr. John Hart, Jr. is presently the Jane and Bud Smith Distinguished Chair and the Cecil Green Chair in Systems Biology at the University of Texas at Dallas (UTD). He is also the Medical Science Director at the Center for BrainHealth at UTD and Professor of Neurology and Psychiatry at the University of Texas Southwestern Medical Center (clinical). Dr. Hart is one of the world?ˉs foremost experts on how you store and access knowledge in your brain, the field of cognition referred to as semantic memory. In addition to four seminal publications in Nature and Proceedings of the National Academy of Sciences (USA) on how the human nervous stores and retrieves knowledge in semantic memory, his laboratory has proposed one of the leading models in the field of cognitive neuroscience, the Neural Hybrid Model of Semantic Memory. His recent work has focused on applying these findings to adults and children with impairment in semantic memory to advance diagnoses and treatments. Dr. Hart is also President of the Society for Behavioral and Cognitive Neurology and the Behavioral Neurology Section of the American Academy of Neurology. These are the organizations of neurologists who work in the fields of healthy cognitive aging, memory, cognition, and dementia.

Alan G. MACDIARMID, Ph.D
2000 Nobel laureate in Chemistry
James Von Ehr Distinguished Professor in Science and Technology, The University of Texas at Dallas
    MacDiarmid was born in New Zealand in 1927, and after obtaining his doctorial degrees at the University of Wisconsin (1953) and Cambridge University (1955), he joined the faculty of the University of Pennsylvania in 1955, where he was Blanchard Professor of Chemistry. He joined UT Dallas in August of 2002, when he filled the newly created James Von Ehr Distinguished Chair in Science and Technology. MacDiarmid shared the 2000 Nobel Prize in chemistry with Alan Heeger and Hideki Shirakawa for the discovery and development of conductive polymers. MacDiarmid wrote or co-wrote more than 600 research papers and holds 20 patents. He received numerous awards, medals and honorary degrees for his scientific achievements, including election to the National Academy of Sciences and to the National Academy of Engineering. In February 2007, MacDiarmid, 79, passed away in Philadelphia.

Sir George RADDA, CBE FRS, Ph.D
Chairman, Singapore Bioimaging Consortium
Deputy Chairman, Biomedical Sciences & Technology Group, Biomedical Research Council
Agency for Science, Technology and Research (A*STAR)
    George Radda obtained his D.Phil. in Physical Organic Chemistry at Merton College Oxford. He became Chief Executive of Medical Research Council (on secondment) (1996-2003) and was Chairman National Cancer Research Institute (2001-2003). In 2003 he retired and became Emeritus Professor of Molecular Cardiology and Emeritus Fellow of Merton College Oxford (2003-2006). In 2006 the University reemployed him as Professor and Head of the Department of Physiology, Anatomy and Genetics. He is now Chairman of the Singapore Bioimaging Consortium (SBIC) of the Agency for Science, Technology and Research (A*STAR) and Deputy Chairman of A*STAR's Biomedical Sciences & Technology Group (BSTG), Biomedical Research Council (BMRC).
    His research interests range from studies of enzyme regulation, bioenergetics and in vivo biochemistry in relation to human disease and in particular heart disease. His early work was concerned with the development of fluorescent probes for the study of structure and function of membranes and enzymes. He soon became interested in the possibility of extending his work to investigate complex biological materials using Nuclear Magnetic Resonance (NMR). In 1974 he published the first paper on the use of phosphorus NMR to study tissue metabolites. The first report of a clinical application of 31P NMR was published in the New England Journal of Medicine in 1981. These developments led to the setting up of the first clinical magnetic resonance spectroscopy unit in the world. He was awarded the CBE in 1993 and Knighted in 2000. He became a Fellow of the Royal Society in 1980 and a Founder Fellow Academy of Medical Sciences in 1998.

Zihe RAO, Ph.D
Academician of the Chinese Academy of Sciences
Cheung Kong Professor of Ministry of Education
President, Nankai University
President of the Biophysical Society of China
    Prof. Zihe Rao received his Ph. D from Melbourne University in 1989. He is a Member of the Chinese Academy of Science, President of Nankai University, Professor of Tsinghua University, Cheung Kong Professor of Ministry of Education.
    Professor Zihe Rao is mainly engaged in the study of the three-dimensional structures of some key proteins related to human disease or with important physiological functions, as well as in proteomics and innovative drug design. To date he has published more than 130 peer-reviewed papers in international scientific journals including Cell, Nature, PNAS, J Biol Chem., J Mol Biol., J Am Chem. Soc. and so on. His research group has already systematically expressed 200 key proteins related to human health and disease, and determined the crystal structures of 50 proteins. He attained the Hong Kong "Qiushi Outstanding Scientist Prize in Life Sciences" in 1999, and was appointed as Cheung Kong Professor of Ministry of Education. In 2003 he received the "He Liang-Heli Foundation Science and Technology Prize".

Ruey-Jen SUNG, M.D
Former Dean of the School of Medicine and Professor of Cardiology
Former Vice President, National Cheng Kung University, Taiwan
    Dr. Ruey J. Sung's research field includes Cardiovascular Diseases and Electrophysiology. In 1968, he graduated from the Department of Medicine of National Taiwan University. After his military service, Dr Sung joined the Cardiology Fellowship in the University of Miami Medical Center from 1972 to 1974. He remained working there as assistant professor (1975-1978) and then was promoted to associate professor in 1978. From 1981 to 1991, he served as professor in the Department of Medicine in the University of California at San Francisco. Furthermore, from 1991 to 2001, he taught in the Department of Medicine at Stanford University. Now, he is the current Vice President and Dean of the College of Medicine at National Cheng Kung University in Taiwan. Dr Sung is still Emeritus Professor at Stanford, visiting professor at the National Chiao Tung University and Clinician at the Department of Internal Medicine-Cardiovascular Division in the National Cheng Kung University Hospital.

Brian M. SALZBERG, Ph.D
Professor of Neuroscience and Physiology
University of Pennsylvania School of Medicine
    Prof. Salzberg received his Ph.D. degree in high energy Physics from Harvard University. Since the early 1970's Salzberg has pioneered the application of optical methods, many of which he developed, to cell physiology and neuroscience. In 1972 he and his colleagues discovered the first molecular probes of membrane potential, the merocyanine voltage-sensitive dyes. This was followed by optical recording of action potentials from individual neurons and then multiple site optical recording of membrane voltage, which paved the way for functional imaging of the nervous system. Prof. Salzberg and colleagues then introduced the first calcium indicator dye (Arsenazo III), which led to Tsien's development of fluorescent indicators and the thousands of papers that followed. Other contributions include the first recording of voltage changes from vertebrate nerve terminals, the discovery of light scattering changes in these terminals, the detection of robust intrinsic fluorescence changes from these same terminals, that help us to understand the coupling of action potentials to mitochondrial activation, and the discovery of extremely rapid mechanical "spikes" in nerve terminals. Prof. Salzberg has served on the Board of Trustees of the Marine Biological Laboratory (Woods Hole), on the Council of the Society of General Physiologists, on the Council and on the Executive Board of the Biophysical Society, and on the Executive Council of the Division of Biological Physics of the American Physical Society. The author of numerous widely cited scientific publications, Salzberg is a Fellow of the American Physical Society and a Fellow of the American Association for the Advancement of Science.

A. Dean SHERRY, Ph.D
Cecil & Ida Green Distinguished Chair in Systems Bioscience, Professor of Chemistry
Director of Advanced Imaging Research Center UT-Southwestern
Professor of Radiology, UT-Southwestern
    Dean Sherry received his doctorate for Physical/Inorganic Chemistry from Kansas State University in 1971. In 1994, He won W.T. Doherty Award from DFW Section of the American Chemical Society and in 1990 the Chancellor's Council Outstanding Teaching Award at UT Dallas. His fields of research specialization include biomedical magnetic resonance techniques, applications of 13C & 2H NMR to study intermediary metabolism, lanthanide based MRI contrast agents, biologically responsive imaging agents and lanthanide-macrocyclic complexes.

Lihong WANG, Ph.D
Cheung Kong Professor of Ministry of Education
Gene K. Beare Distinguished Professor, Department of Biomedical Engineering
Washington University in St. Louis
    Dr. Lihong Wang studied for the Ph.D. degree at Rice University, Houston. He currently holds the Gene K. Beare Distinguished Professorship in the Department of Biomedical Engineering at Washington University in St. Louis. He was awarded Cheung Kong Professor by the Ministry of Education of China in 2006.
    He chairs the International Biomedical Optics Society. He is a fellow of the AIMBE, IEEE, OSA, and SPIE. He serves on the editorial boards for the Journal of Biomedical Optics and Applied Optics. He engages in biomedical optical imaging, and has published more than 160 scientific articles in peer-reviewed journals, such as Nature Biotechnology, Physical Review Letters, and Optics Letters. He authored one of the first textbooks in biophotonics entitled "Biomedical Optics: Principles and Imaging". He invented multiple technologies such as dark-field confocal photoacoustic microscopy.

Fujia YANG, Ph.D
Academician of the Chinese Academy of Sciences
Chancellor of Nottingham University
Vice-Chairman of the Chinese Association for Science and Technology
Former President of Fudan University
    Professor Yang Fujia is a physicist and an Academician of the Chinese Academy of Sciences. He is also Vice-Chairman of the Chinese Association for Science and Technology. He is former chairman of Shanghai Association for Science & Technology (1992-1996) and former Director of the Shanghai Institute of Nuclear Research under Chinese Academy of Science (1987-2001).
    Professor Yang is Professor of Fudan University. In 1984, he was recognized as an outstanding scholar of national excellence for his brilliant contributions. In 1991, he was elected as the Academician of the Chinese Academy of Science and the Fellow of the Third World Academy of Sciences, and in 1998 he was conferred an honorary professorship in Physics by the American Vanderbilt University. Professor Yang also holds Honorary Doctorates from Soka University (science) in Japan, New York State University (Humanities) and Hong Kong University (science), University of Nottingham (science) and University of Connecticut (science).
    Professor Yang is the former President of Fudan University (1993-1998). He is the Founding President of Chinese Association of University Presidents (1997-1999). He has served as the executive member of the International of Association of University Presidents from 1996 to 2005. His appointment as Chancellor of the University of Nottingham since 2001 is a truly unique one since he is the first Chinese national to be offered this prestigious position at a western university. His appointment as first President of the University of Nottingham, Ningbo China is critical to ensure that the very highest standards of teaching and research are maintained.

Jianquan YAO, Ph.D
Academician of the Chinese Academy of Sciences
Professor of Tianjin University
Vice chairmen of the Tianjin Municipal committee of the CPPCC
    Prof. Jianquan Yao, Academician of the Chinese Academy of Science. He received Master degree from Tianjin University in 1965. Presently, he holds the following appointments concurrently: the syndic of Chinese Optical Society (COS), Director of Institute of Laser & Opto-electronics, Tianjin University; the member of Optics Society of America and SPIE, visiting senior researcher in Laser Center of South California University et al. He is also a member of the 7th, 8th, 9th ,10th CPPCC, a member of the 8th DPP committee, a deputy member of the 9th, 10th DPP committee, a vice-chairman of the 9th,10th CPPCC of Tianjin and a municipal committee member of the 10th DPP of Tianjin.
    Academician Jianquan Yao is a famous expert of Laser and non-linear optics and mainly engaged in the study of frequency conversion technology of laser and non-linear optics, and extends the high-power laser multi-frequency theory. He develops the accurate optimum-phase-match calculation theory of biaxial crystal, which is called Yao-tech or Yao-theory. He successfully developed advanced high-efficiency solid state laser, tunable laser, high-efficiency multi-frequency lasers, et al., in the new laser Tech and its applications. Prof. Yao has published more than 670 papers. During his academic life, he won the National Award for invention, and the award for National Ministry of Educational for science advancement four times, excellent prize of the Chinese Academy of Science, first level knight medal, et al.

Yi-Xin ZENG, Ph.D
Academician of the Chinese Academy of Sciences
President of Peking Union Medical College
Director of the State Key Laboratory of Oncology in South China
President of Sun Yat-sen University Cancer Center
    Prof. Yi-Xin ZENG's major research interest is focused on the pathogenesis of nasopharyngeal carcinoma and gene therapy of cancer. He has published more than 200 academic papers in international famous journals including Nature, Nature Genetic and Cancer Research. He is the chief editor of national postgraduate textbook Oncology designed by the Minister of Health, the Editor-in-chief of the Chinese Journal of Cancer and Vice Editor-in-chief of medicine undergraduate textbook Clinical Oncology. He is running several programs of 863, 973, National Natural Science Foundation of China and Science Research Foundation of Guangdong. He won the first class prize of Chinese Medical Association, the first class prize of the Natural Science Award of the Minister of Education, the first class prize of Science and Technology Advancement Award Guangdong Province, the second class prize of the National Nature Science Award. He has also received numerous awards including the followings: Award for Excellent Young Teachers in Chinese Universities, Ministry of Education; Special Allowance Specialist, State Council; middle-aged/young specialist with outstanding contribution, Ministry of Health; Award for Chinese young scientist, Chinese Communist Youth League.

Baoyong ZHENG
Executive Vice President, Hua Wei Technologies Corporation, Inc
President, Hua Wei America
Distinguished Alumnus, Huazhong University of Science and Technology
    Baoyong Zheng is the executive vice president of Hua Wei Technologies Corporation, Inc, the president of Hua Wei America and the Distinguished Alumnus of Huazhong University of Science and Technology. He has achieved a great deal in the product development, and has directed the design and development of several generations of SPC switching equipment in Hua Wei Corporation one after another. He has achieved a great deal in the fields of switching equipment and digital cellular mobile elecommunications. He was once the members of experts group for national "S-863" plan, associate group leader of national photoelectron experts group and the member of national "306" communication project experts group.

Bingkun ZHOU, Ph.D
Academician of the Chinese Academy of Sciences
Professor of Tsinghua University
Former Vice President of National Natural Science Foundation of China
President of Chinese Optical Society
    Zhou Bingkun, professor of Electrical Engineering. A laser and optoelectronics expert, he was born in Sichuan, China in 1936. He graduated from the Department of Radio Electronics at Tsinghua University in 1956. At present, he is a academician of the Chinese Academy of Sciences, President of the Chinese Optical Society. He has been engaged in research and teaching on laser and optoelectronics for a long time. His interests include laser physics and devices, semiconductor laserd and their applications, semiconductor lasers, pumped solid state lasers, doped fiber amplifiers and lasers, high speed optical fiber communications and optical switching. He has scientific achievements in the area of "semiconductor laser pumped solid state laser", "single crystal fiber growth and devices", "fiber ring cavity and their application" and eight awards. He is the author or co-author of over 80 papers and one book: Laser Principles, which was awarded a state-level prices for excellence.